search engine by

freefind
advanced
No Poll For Now
See Alderson in the very
early days.
Check What's Going On In Alderson
See The Events Calendar
Looking for a name, subject, or article?
Use the Site Search Bar above.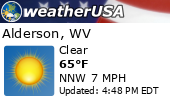 Click on Temperature for complete
forecast
From
The Aldersonian
Would you care to suggest a
subject for a poll? Send your
suggestions here.
Starting our 16th year on the
internet!
Ice on the Greenbrier
Click on photo for larger view.
(Photo taken 2014)