Alderson Community
Center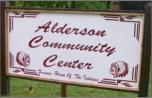 Copywrite Alderson Community Center - 1992
In Operation Since 1992





A baked steak dinner will be held Sunday, June 6, 2010, from 11:30 – 2:00 in the home economics room of

the center. The menu will include baked steak, mashed potatoes, gravy, green beans, cranberry salad, hot

rolls, cake, iced tea and coffee. The cost of the dinner is $8.00 for adult and $4.00 for children under 10. Take

out will be available. For home delivery, please call 304-445-7053 prior to June 5th. The free quilt show will

be held in the gym from 11:00 am 4:00pm. The drawing for the quilt will be held at 4:00pm in the Gym.

Tickets will be available until 3:00 pm. You do not have to be present to win. This is the first fundraiser for the

Alderson Community Center of the summer so come out and enjoy a great meal, while taking a chance on

winning a beautiful hand stitched quilt donated by the Alderson Quilt Club.

STEAK DINNER AND FREE QUILT SHOW TO BENEFIT ALDERSON COMMUNITY CENTER