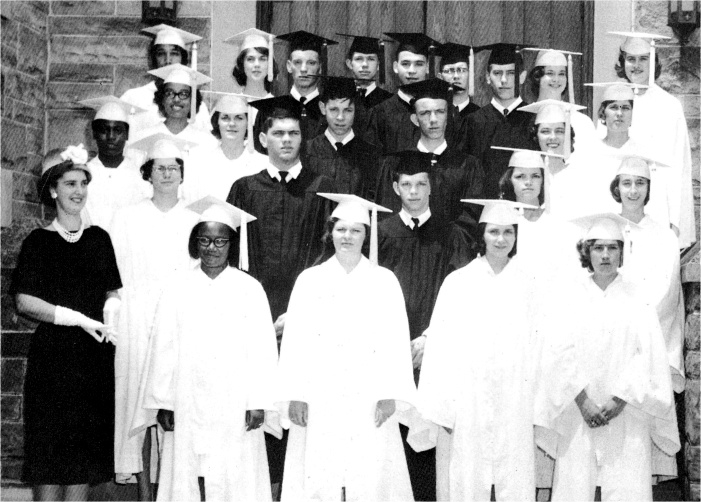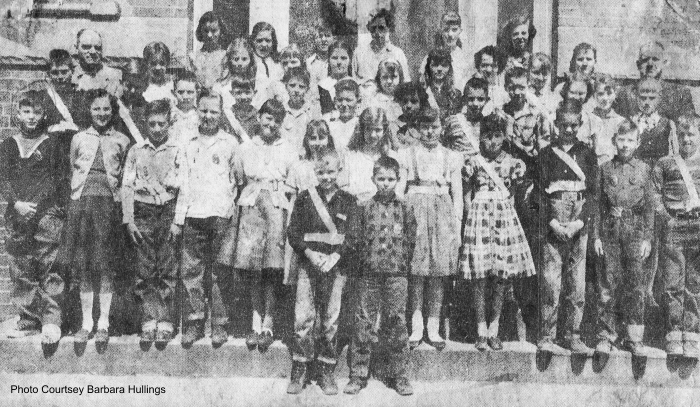 ALDERSON SCHOOL SAFETY PATROL: Pictured above is the Alderson Grade School's Safety Patrol directed by George Utterback, back left and Wyatt Duncan, right. Students shown are: Barbara Hullings, Leona Bryant, Leonard Carter, Newton Nickell, Louise McClung, John Martin, Randy Portifield, Royce Fleshman, Bobby Baker, Clarence Jones, Jessie Kast, Alta Williams, Mary Lynn Smithson, Martha Hanson, Linda Pittinger, Dianne Merritt, Sue Keadle, Martha Henson, Ruby Sims, John Hiser, Pat Harrah, Walter Baker, Jackie Baker, Dennis McClung, Sandra Mann, Henry Crawford, Dianne Terry, "Shaggy" Patton, William Phillips, Alfred Baker, Dexter Highlander, Jane Adams, Brenda Hiser, Dianne Allen, Connie McGuire, Carolyn Reed, Jane Watson, Shelia Lockridge, Donna Hendrick, Joan Eary.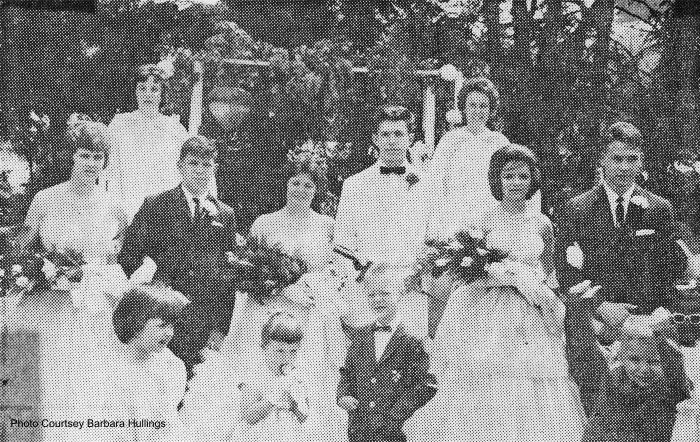 The 38th annual May Day Festival was held Friday afternoon by Alderson High School. Among those participating were (left to right, back row) Susan Weikle and Jeanie Knapp, heralds; (second row Carolyn Reed, first princess, and her escort, William Phillips; Barbara Hullings, queen, and Bob Baker, king, and Diana Merritt, second princess, and her escort Carl Patton, In the center front row are Kathy McVey crown bearer, and Scott Pinnell, sword bearer.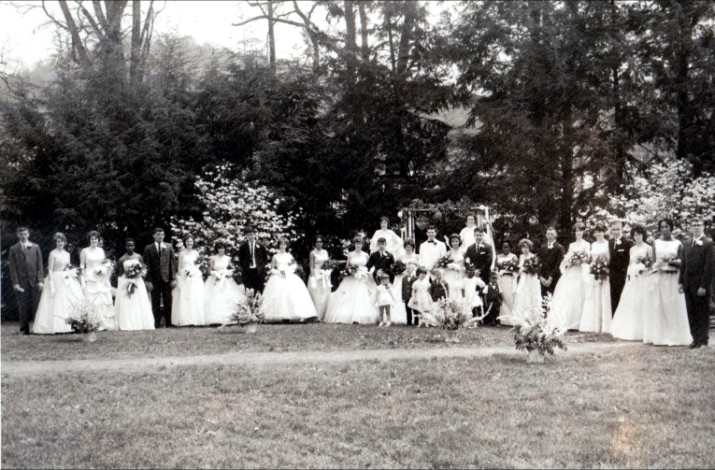 Class of 1964 May Day Photo
(Click on photo for panoramic view)
Newton Nickell, Mary Smithson, LouAnn Smith, Joan Page, Jim Goulding, Connie McGuire, Leona Highlander, Eddie Burdette, Leona Bryant, Diane Allen:
MayDay Court: Carolyn Reed, William Phillips, Barbara Hullings, Bob Baker, Diana Merritt, Carl Patton:
Priscilla Brandon, Judith Dunbar, Clifton Gillespie, Louise McClung, Priscilla McJunkin, John Martin, Linda Pittenger, Gertude Smith, Randall Porterfield.
Behind the May Court - Hearlds - Susan Weikle and Jeanne Knapp
Front of the May Court- Rings Bearers: Kathy McVey, ? Pinnell, Vivian Sheppard, Vivian Harnest , Gil Merritt, Theresa Galloway, ? Brandon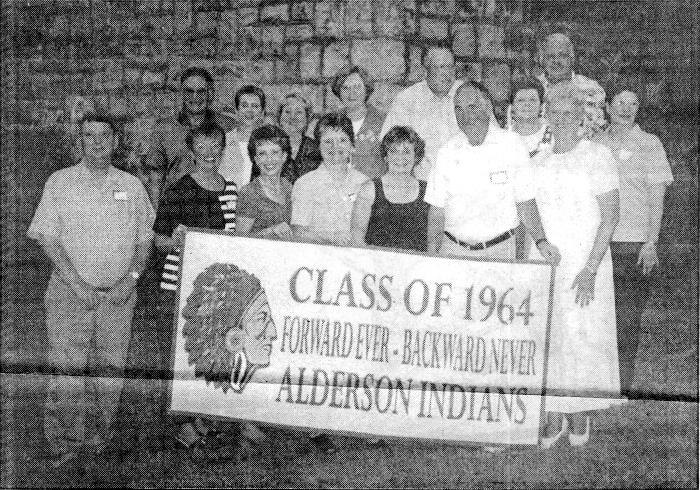 Alderson Class Of 1964
Marks 40th Reunion
Members of the 1964 class of Alderson High School celebrated their 40th reunion during the 4th of July activities in Alderson. They attended the Homecoming Dinner July 2 at the Community Center and n picnic hosted by Bob and Terri Baker at their home in Ronceverte July 3.

Those attending the reunion included (front, l-r) Clifton Gillespie. Connie McGuire Brown, Brenda Hiser Ayers, Diana Merritt Halstead, Barbara Hullings Owens, Sam Clay, Sandra Mann Davis; (back) Carl (Shag) Patton, Carolyn Reed Holliday, Leona Bryant Mueller. Mary Smithson Cutright, Bones Baker, Linda Pittenger Loudermilk, Bob Baker and Alta Morgan Williams.
THE CLASS OF 1964 HELD THEIR 47TH REUNION AT "FOOD AND FRIENDS" ON APRIL 9TH 2011. A SMALL CLASS, BUT A GREAT TIME HAD BY ALL.
| | | | | |
| --- | --- | --- | --- | --- |
| ROYCE FLESHMAN | DIANA MERRITT HALSTEAD | MARY SMITHSON CUTRIGHT | CAROLYN REED HOLLIDAY | LINDA PITTENGER LOUDERMILK |
| BARBARA HULLINGS OWENS | CARL "SHAG" PATTON | SAM CLAY | CONNIE MCGUIRE | CLIFTON GILLESPIE |
| ROBERT "BOB" BAKER | FREDA LIVESAY | WALTER "BONES" BAKER | BRENDA HISER AYRES | |
Alderson Class of 1964
50th Reunion
Class of 1964 held their 50th Class Reunion at Bob Baker's home on July 3, 2014
Attending:
Back row left to right;
Carl "Shag" Patton, Bob Baker, Louise McClung Hatcher, Clifton Gillespie, Linda Pittinger Loudermilk, Carolyn Reed Holliday, Alta Williams Morgan, Mary Smithson Cutright, and Sam Clay
Front row left to right;
Leona Highlander Maynard, Leona Bryant Mueller, Diana Merritt Halstead, Connie McGuire Brown, and Barbara Hullings Owens

Also attending a very special Teacher to the Class, Mrs. Orvetta Fitzwater (not pictured)

Balloons were released in memory of class members:
Sue Keadle, Dennis McClung, Sam Connor, Brian Warren, Lou Ann Smith, John Martin, William Phillips, Shelia Lockridge, Conn Feamster, Bill Joe Cole, and Dexter Highlander