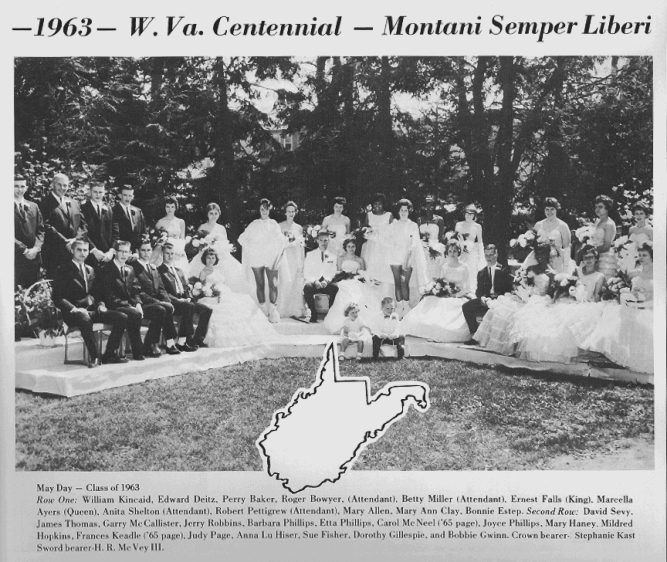 | | | | | | | | | |
| --- | --- | --- | --- | --- | --- | --- | --- | --- |
| Sue Fisher | Larry Huffman, | Harley Lemons, | ??? | Clifton Gillespie | Marilyn May | Margaret Abbott | Sam Conner | Billy Martin |
| Blaine Weakly | Carol Wickline | Ernest Falls | David Sevy | Sandra Haney | Betty Miller | Roger Bowyer | Butch (Roy) Riddell | Tom McCallister |
| Marcella Ayers | Mary Haney | Sue Yates | Mildred Terry | Bobbie Jean Gwinn | Cranston Cobb | ??? | Donnie Trout | ??? |
| | | | | | |
| --- | --- | --- | --- | --- | --- |
| Bill Kincaid | Jerry Holcomb | MaryAnn Clay | Dorothy Gillespie | Jimmy Gwinn | John Craft |
Class of 1963 Snap-Shots
Reunion 2008!
The class of 1963 held the 45th reunion at the home of Ward and Joyce Parker July 4, 2008, with a simple cook-out with salads and condiments.
Font row, L to R: Dorothy Gillespie Estep, Joyce Phillips Parker, Betty Miller Groves, Carol Wickline Ayers, Bob Pettigrew and Anita Shelton Russell.
Second row, L to R: Roger Bowyer, Bill Kincaid, Jimmy Wheeler, Mildred Hopkins Lewis, Perry Baker and Gary McCallister.
Present but not pictured was Roy (Butch) Riddell. Class members unable to attend but sending regrets were Sandra and Mary Haney, Sue Fisher, Etta Lane Phillips Gwinn, and Clark Hanson.

Deceased members who were remembered were Ernest Falls, Marcella Ayers, Jim Thomas, Bobbie Gwinn, Judy Page, David Sevy, Bill Joe Cole and Jr. Moody.