In the late 50's Jim "Sket" Meadows and I began I our careers by learning to fly at the Pence Springs International Airport, W.Va. Jim and I both went through the "paying your dues" over the years and in the late 90's we were getting the "think" about retiring age and thought it a good idea to do a trip together for the good ole days etc., and in memory of Jims dad who gave me my first airplane ride and had encouraged us to do this for some time.
I was with American working the International Division and Jim was with United flying international flights. United had received delivery of the then latest - greatest equipment - the Boeing B-777. American was expecting delivery of the B 777 within a few months. Considering all of this, and that my job required that I fly over the routes and to the cities to which I dispatched, I contacted Jim to work out the details and to which all agreed except American, who could find no Federal or company regulation prohibiting my flying with Jim, so it was done deal.
We arrived at the Washington Dulles International Airport one evening about 8:00PM and prepared all of the paper work. We took off on time (around 9 - 9:30 PM) flew up the coast east of New York city onward to near Gander Newfoundland, then east to Frankfurt Germany and thanks to the superb airmanship, arrived right on time.
Itís interesting to point out that after getting all the initial work completed and eastbound over the Atlantic, the four of us in the cockpit had time to talk and discovered that we all were from West Virginia. The idea of this fact making its way back to the passengers concerned me a bit and I suggested to Captain Meadows that we try to not let that happen as they may demand that we land and let them all off.
| | |
| --- | --- |
| | |
| Late 50s. Pence Springs, West Virginia. | 50 years later - Frankfurt Germany. Comparing, I don't see much change except the airplanes are bigger. |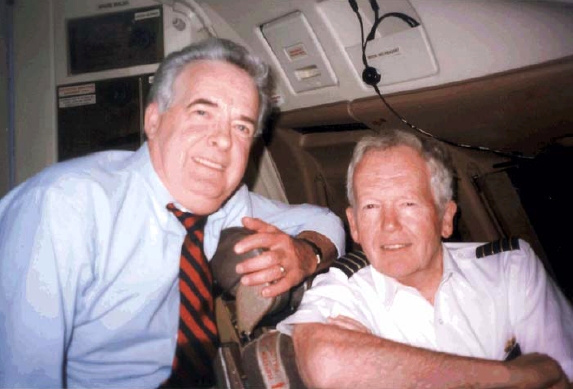 Midnight U. S. time, "somewhere" over the north Atlantic and no, we are not lost, we always look serious at work.