Pictorial History of the Alderson Depot
| | |
| --- | --- |
| | The first Chesapeake & Ohio depot in Alderson is seen in this 1891 photo. It later became the freight station and was finally demolished in 1962. Photo C&O Historical Society Collection. |
| | |
| --- | --- |
| About 1905 we see the freight station cluttered with equipment, the passenger station just beyond with folks waiting for the train approaching in the distance, and baggage trucks piled high. Beyond the station area a busy lumber yard . Photo by J. W. McClung. | |
| | |
| --- | --- |
| | In the summer of 1935 a west bound train pauses at Alderson to conduct business and one of its passengers, William Monypeny, got of the train and took this photo. You can see the old freight station on the other side of the depot. |
About this time, Tom Roush's grandfather, T. L. Dameron (picture-right) was the Stationmaster, and his son Frank (pictured right) was Station Agent. Frank was Tom Dameron's father. When T. L, retired, Frank took over. Both T. L. and Frank Dameron worked for C&O for 50 years. In the photo on the left is the stationmaster's office with T. L. Dameron and friend. Note the oak desk with the crank adding machine. Also the rotary type telephone in the background. The stationmaster sold tickets and conducted railroad business here.

In 1957 the station was renovated and the walls were covered with plywood and the ceiling dropped to 9 ft. Later, when Tom Roush, Gerry Williams and others renovated the station, they removed all the plywood and raised the ceiling back to the 14 ft height except the left waiting room. The right waiting room is like it was in 1896 when built, and the Museum, or center ticket office is like it was in 1920. The left waiting room is like it was when renovated in 1957.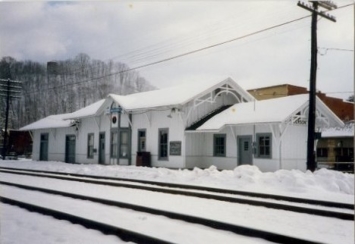 | | |
| --- | --- |
| | This photo was taken about 1995 before the Depot was repainted the original color. The paint is pealing and the building is in bad shape. You can see the freight wagons at this end of the building, as if they are waiting for the next train to stop. Those wagons are still at the Depot and can be seen by visitors. (Photo was supplied by Mr. Bill Hakkarinen, Cockeysville, Md) |
The driving forces behind the depot restoration were Tod Hanger, Tom and Neta Roush, and Jerry Williams. The building is a historic structure and a contributing element in Alderson's National Register Historic District. Because it has historical significance, the depot had to be painted in the original color--C & O orange. Grants to do all the restoration work were secured from different organizations with the largest coming from the West Virginia Division of Highways' Transportation Enhancement Program. and had to be matched with a certain percentage of funds from Alderson Main Street These funds were raised by denotations from private citizens and private grants.
| | |
| --- | --- |
| Back to the original color. The tarmac all around the station was resurfaced. | |
| | |
| --- | --- |
| | Period pieces of furniture and paraphernalia give an air of what it would be like to be inside the office area in the early years. |
Above: Two interior photos before furnishings.

Photos courtesy: Bill Hakkarinen, Tom Dixon, Tom Roush, Barry Worrell, and Margaret Hambrick