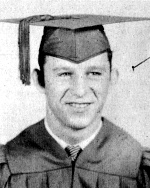 GREENUP — James Melvin Hunter, 73, of Greenup, died Tuesday in Community Hospice Care Center in Ashland, Ky.

He was born Feb. 24, 1939, in Sophia, W.Va. and a graduate of Alderson High School, Alderson, W. V., class of 1957.

His wife, Nancy Carroll McCormack Hunter, survives.

A graveside service will be at 11 a.m. Wednesday at Kentucky Veterans Cemetery North East in Greenup. There will be no visitation.