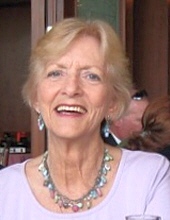 Patricia Ann McAllister Livesay, 77, of Lewisburg, WV, passed away peacefully on Tuesday, January 9, 2018, at her residence.

Patricia was born on August 23, 1940 in Alderson, WV, to the late Richard C. and Bessie Belle Knapp McAllister. She was a 1959 graduate of Alderson High School.

She spent many years as a hair dresser and attended the Lewisburg United Methodist Church. Patricia could always be found active in her yard, enjoying gardening, and watching her birds. She was gifted in needlework and leaves behind treasured heirlooms.

Survivors include her husband of 54 years, William Joseph Livesay, Sr.; daughter, Melissa L. Able (Keith) of Beaufort, SC; and son, William Joseph Livesay Jr. (Tine) of Charleston, SC; and six grandchildren.