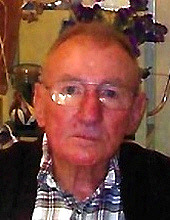 James "Nobel Dude" Arnold Whitlock 81 of Alderson passed away Thursday, April 12, 2018 at the White Sulphur Springs Family Center. Born February 8, 1937 on Judson Mountain in Summers County and was a son of the late Louise Alice Boone. He was preceded in death by his wife, Lena Faye Bryant Whitlock.
Jim grew up in the Old Greenbrier Baptist Church, graduated from Alderson High School in 1955, served in the US Air Force during the Korean War, was a business administrator for Mt. Vernon (Home of George Washington), and was a manager of Waterfront Sports Goods in Alderson.
Jim is survived by his daughter, Debbie Carter and husband David of Alderson, one grandson, David James Carter and wife Kelsey of Lewisburg, one great grandson, Tydus Maxwell Carter of Lewisburg.