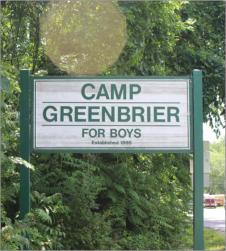 Established 1898, Camp Greenbrier for Boys has offered much guidance and training to our young men across the USA and other countries as well.

On June 28, 2015, campers began to gather along the Greenbrier River for a summer filled with activity. The camp now offers 17 different activities. Boys from 10 countries and 20 states in the U.S.A., represented their home towns from the countries of Slovakia, Czech Republic, France, Lithuania, England, Scotland, Ireland, Spain, Germany, Russia, and the states of Va., N.C., D.C., Md., Ga., Fl., W.V., Oh., N.Y., Pa. , Al., N.J., Ky., Nv., Co., La., Wa., Tx., Mo., & In.

A new camp was built in 2014 for housing for the counselors, complete with a wrap - around back deck. It is named The Chinnault. A nice privacy fence was built around it, facing The Green Grocer and extending down to The Alderson Mini Park. Very nice "digs", I might add.