The Alderson High School Band
Photos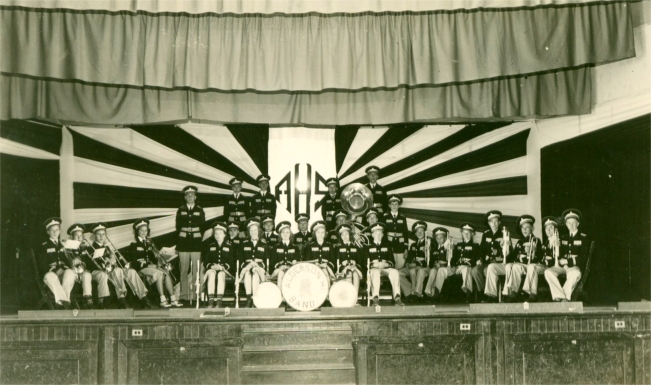 Circa 1940
(Photo Courtesy Robert Roush)
(Click on picture for larger view, and then, click again on the picture for largest view)
This newly uniformed, 2-year·old Alderson high school-band will greet the Beckley goodwill caravan and the Flying Eagles band on May 11. Instructor Norman Hazeldine's snappy outfit will enter the state band festival in Huntington again this year, after getting a taste of what it was like in their first year of horn tooting.
From left to right the band members are: First row: Gerald Warren, Howard Lively, Richard Meredith, Lorene Burdette, Mary Steele, Rachel Crawford, Ruth Farley, Phyllis Rowe, Louisa Roach, Junior Hancock, Robert Skaggs, Bobby Roush, Junior Lobban, D. B. Jurrison, James Nash, Sterling Hanger, Bobby Black,

Second, row: Topsy Williams, David Hash, Joe Hedges, Bobby Withrow, C. P. Skaggs, Jess Keadle, John Raine.

Third row: Calvin Broyles, Tom Bland, Lawrence Merritt, Gilbert Cofer. (Photo by W. Richard Ford).
Thanks to Mary Morgan and Bobby Black for the names listed. All who were in the picture are not listed, and in no particular order.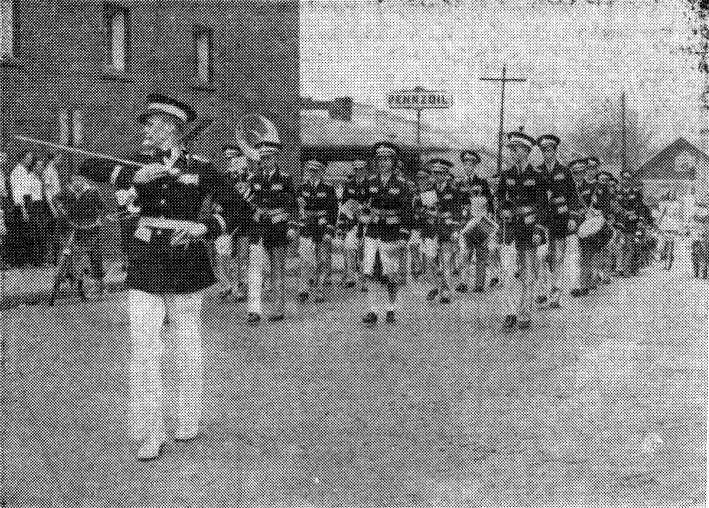 Alderson's second place high school band is shown above in the giant parade which climaxed the celebration of Youth Week yesterday. More than 500 musicians in seven bands paraded Beckley's streets. (Harold "Beans" Crawford - Drum Major) Circa 1940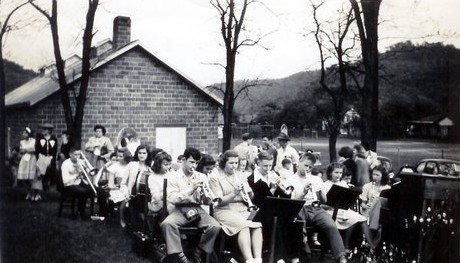 The AHS Band during a May Day program circa 1947-48

The AHS band about 1947-48. Some of the members are Tom Roush, Emit Pinnell, Kitty Riggs, Bill Bryant, Nancy Mays, Margaret Bland, and Bill Deem. Mrs. Keadle's forehead is seen behind the piano in the lower right of the picture. - (Picture courtesy Tom Roush).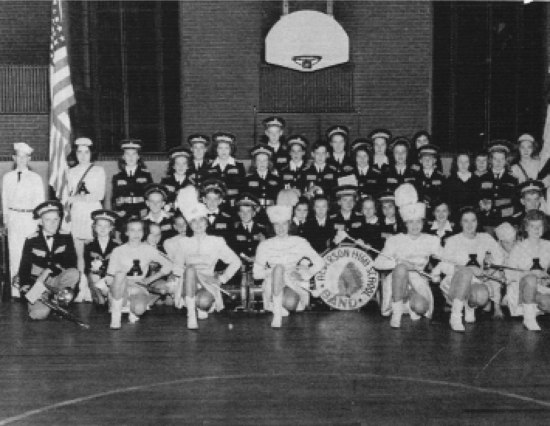 Circa 1947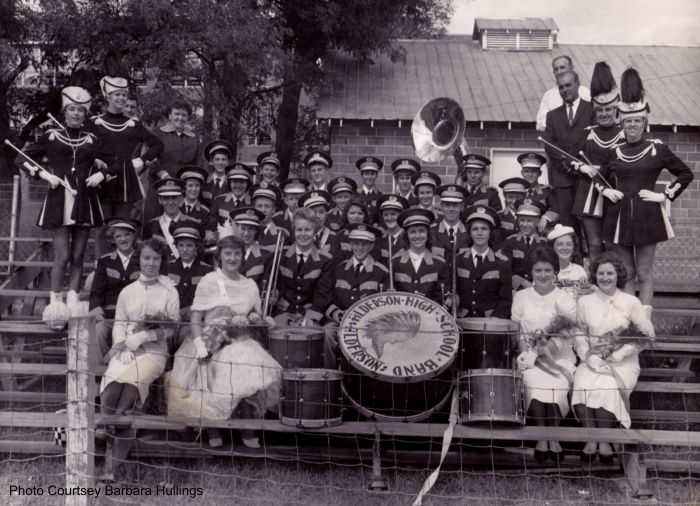 1st row (back) Louise McClung, Barbara Hullings, Bonnie Washburn, Leona Bryant, Carolyn Reed, Ronnie Martin, Johnny Skaggs.
2nd row: Frances Keadle, Sue Fisher, Billy Martin, Bobby Baker, Jane Adams, Diana Terry.
3rd row: Henry Feamster, Harley Lemons, Marilyn Mays, Diana Merritt, Shirley Gree, Butch Rodell, Don Livesay.
4th row: Drema Light, Karen Flint, Carol Light, Joan Hiser, Dennis McClung, Leona Bryant, Doris Highlander, Connie McGuire.
Front row:(?) Greene, Nancy Nickel, Diana Talbot, Shirley Fisher
Majorettes: Left: Kellen Morton, Mary Copeland Patty Bryant Mann, Sara Housby
Band Teacher: Mrs. O. Keadle
Band Manger: Hilbert McCombs
City Officials: Elvin Keadle and Richard Ford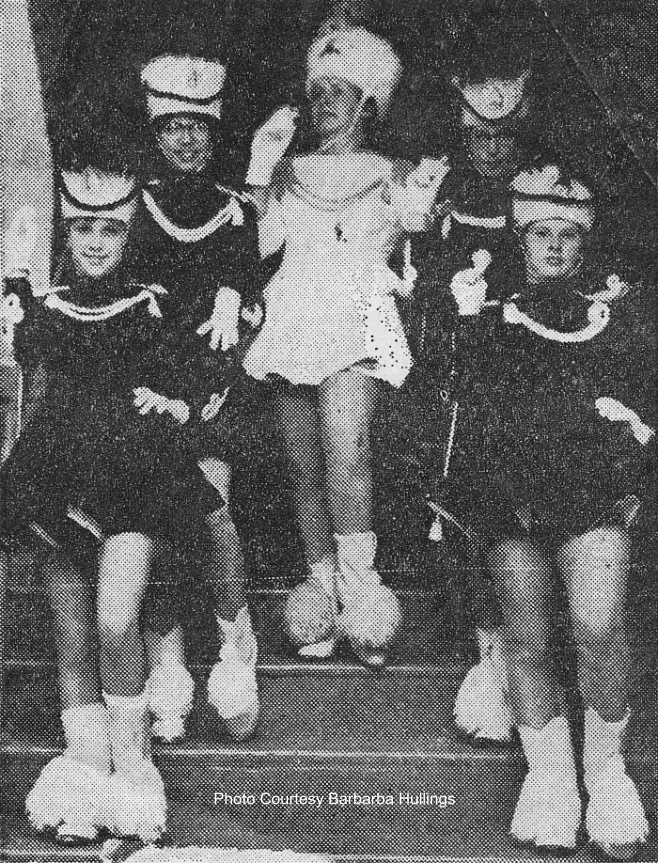 Alderson High School's (1960-1961) new majorettes made their first public appearance Friday evening when they led the high school band in a parade across town preceding the football game played by Alderson and White Sulphur Springs. It was the first game played by the home team on their own field. The majorettes also led the band Saturday evening when a square dance given for the benefit of the band was held a the Keadle Service center. They also did a square dance routine as part of the band's participation in the event. They are (left to right) Harriet Philips, Martha Greene, Joan Hiser head majorette, Carol Light and Barbara Hullings.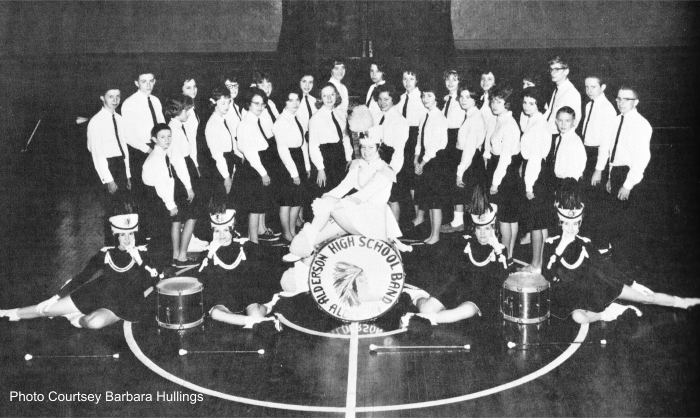 1964

Majorettes: Frances Keadle, Diana Merritt, Barbara Hullings - Head Majorette - Karen Flint, Leona Bryant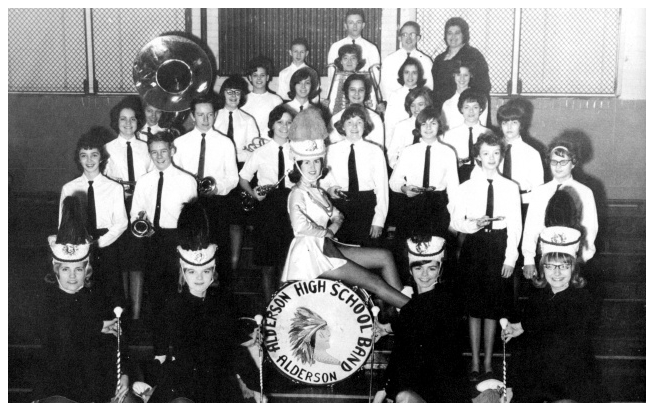 1964-65

First Row: Majorettes: Karen Flint - Vickie Smith - Phyllis Merritt - Beatrice McKenzie.
Second Row: Sylvia Fitzgerald - Garland Harris - Head Majorette, Frances Keadle.
Carol Fitzgerald - Freda Chattin.
Third Row: Marcy McNeel - Earl Snadegar - Marilyn Allen - Donna Cole - Debbie Piercy Jeanette Coffman.
Fourth Row: Anna Lee Rider - Rachael Feamster - Becky Sweetwood - Cheryl Baker, Susie Green Geraldine Wood.
Fifth Row: Nancy Wood - Lee Feamster - Mary Simms - Mary Lou Adkins Barbara Range.
Sixth Row: David Talbott - Gary Farren - Miss Lucy Fife - (Director).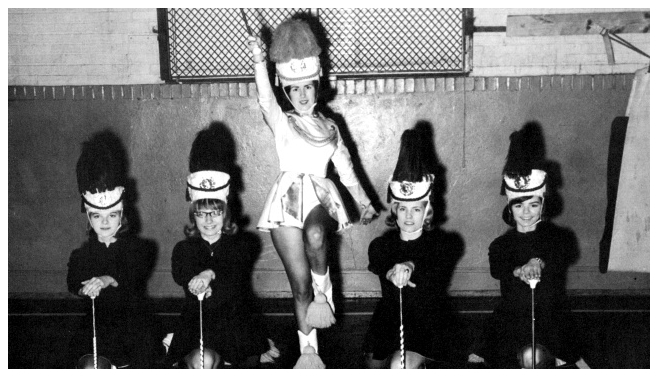 Vicky Smith - Bea McKenzie - Frances Keadle - Karen Flint - Phyllis Meritt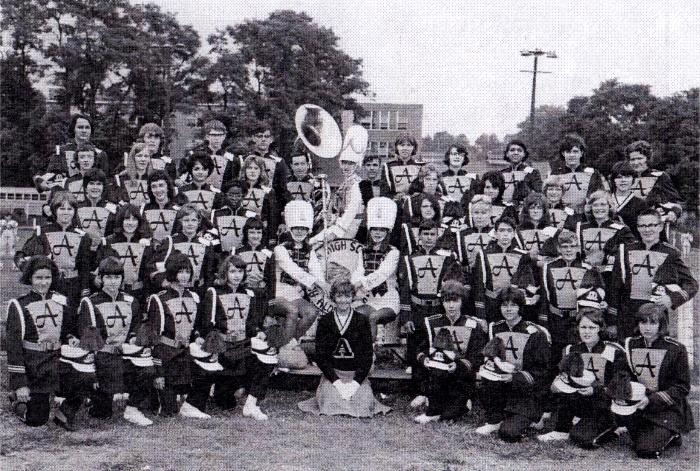 1966-67 Alderson High School Band
Left to right. ROW 1: Kathy Hiser, Diane Thomas, Debbie Rogers, Phyllis Thomas, Marcy McNee|, Susie Porterfield, Vickie Harris, Carolyn Thomas, Barbara Lingo.
ROW 2: Pam Hinkley, Janet Fleshman, Dolly Hardesty, Kay Holcomb, Jenny Bennett (Majorette), Phyllis Merritt (Majorette), Jerry Harris, Richard Talbott, Larry Joe Harris, Jim Michaud.
ROW 3: Nancy Walker, Sylvia Fitzgerald, Jacqueline Hudson, Lee Feamster (Drum Major), Judy Snedegar, Charlotte Jones, Patty Coiner, Kay Roberts, Carole Fitzgerald, Joyce Michaud, Brenda Reed, Marsha Via, Peggy Hanna, Kaye Reed, Libby Jo Meadows, Kathy Walker.
ROW 4: Cheryl Baker, Donna Cole, Bobby Hinkley, Owen Thomas, Earl Snedegar, Curtis Bowden, Nancy Simms, Rachel Feamster, Vicky Allen, Becky Hardesty, Judy Michaud.
More Photos
A Tribute to Ossie Keadle
Music Teacher and Band Director
Please enter your name to comment.